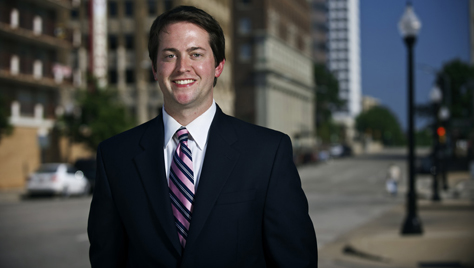 Thomas J. Hutchison
Tom Hutchison is a shareholder in the Tulsa office of GableGotwals. His practice includes a wide range of transactional matters, including corporate finance, mergers and acquisitions, energy and natural resources, securities/capital markets, joint ventures and corporate governance. Tom has particular expertise advising financial institutions and borrowers on complex lending transactions and loan workouts. He has been ranked by Best Lawyers and selected as a Rising Star by Oklahoma Super Lawyers multiple times.
Tom's civic and community activities include serving as Board President of the Community Food Bank of Eastern Oklahoma and as a member and as chairperson for the George M. Sutton Avian Research Center's "Wild Brew" event committee. In addition, he is the former chairperson of the Tulsa County Bar Association's Corporate Counsel Section and is an alumnus of Leadership Tulsa (Class 50).
Tom's recent experience includes:
LENDING/FINANCE
Representing borrowers and lenders in bilateral and syndicated lending transactions ranging from under $1 million to in excess of $2 billion, including the following:
Representation of lead lenders and participant banks in oil and gas reserved-based bilateral and syndicated credit facilities ranging from $5 million to in excess of $100 million.
Serving as lead counsel to the agent bank in the negotiation and documentation of a $120 million dollar revolving credit facility for a domestic manufacturer of industrial combustion and related equipment, including a domestic facility secured by domestic receivables and an export facility secured by export-related receivables guaranteed by the Export-Import Bank of the United States.
Serving as lead counsel to the agent bank in the negotiation and documentation of a $250 million syndicated cross-border credit facility to publicly traded energy/industrial engineering and fabrication company, including swingline, letter of credit and foreign currency sub-facilities.  The credit facility was secured by collateral in multiple states and Canada.
Advising financial institution in the creation of a Native American gaming loan portfolio, including representing the client in multiple loans to various  tribal gaming agencies and tribal gaming entities to be used for general working capital and/or capital expenditures and secured by a pledge of gaming revenues.
Lead counsel to financial institution in multiple real estate financing transactions (including acquisition and construction loans) with an aggregate value in excess of $150 million over a 12-month period.
Representation of ONEOK, Inc. in connection with numerous financing transactions, including its $1.5 billion delayed-draw term loan facility and its $2.5 billion revolving credit facility entered into in connection with its acquisition of all limited partnership units in ONEOK Partners, L.P. that it did not previously own.
Representation of WPX Energy, Inc. in connection with $1.5 billion senior unsecured revolving credit facility.
Representation of Native American tribe in connection with syndicated credit facility providing for revolving and term loans in an aggregate amount of $175 million.
Review and negotiation of commodity and interest rate ISDA forms and intercreditor agreements for financial institutions and end users.
Representation of financial institutions and borrowers in connection with negotiation and issuance of letters of credit.
CAPITAL MARKETS/SECURITIES
Representation of Unit Corporation in connection with registered exchange offer for any and all of its outstanding 6.625% Senior Subordinated Notes due 2021.
Representation of ONEOK, Inc. and ONEOK Partners, L.P. in multiple public offerings of debt and equity, including most recently in ONEOK, Inc.'s public offering of $1.5 billion public offering of senior notes in May 2020.
Representation of ONE Gas, Inc. in connection with its $400 million public offering of senior notes in November 2018.
Representation of Unit Corporation in connection with its $100 million at-the-market equity program in April of 2017.
Representation of Mid-Con Energy Partners, LP, in its initial public offering of common units representing limited partner interests, including preparation of registration statement on Form S-1, formation of new limited partnership and general partner entities, structure of public offering, NASDAQ listing, and associated due diligence.
Representation of publicly traded companies in connection with periodic reporting obligations and filings under the Securities Exchange Act of 1934.
Representation of non-profit hospitals and universities in tax exempt bond issuances ranging from $30 million to $200 million.
Representing healthcare real estate investment fund in entity formation and private placement of limited partner units.
CORPORATE/M&A
Representation of Magellan Midstream Partners, L.P. in connection with the sale of three marine storage terminals in Connecticut, Delaware, and Louisiana to Buckeye Partners, L.P. for $250 million.
Representation of ownership group in sale of single-asset real estate investment entity for total consideration in excess of $65 million.
Representation of Alliance Resource Partners, L.P. in $145 million acquisition of oil and gas mineral and royalty interests in the Permian Basin.
Representation of Mid-Con Energy Partners, LP in $60 million sale, and concurrent $27.5 million purchase, of oil and gas properties in Oklahoma and Texas.
Representation of a private-equity backed E&P company in $30 million acquisition of leasehold acreage.
Advising executives/founders of private-equity backed E&P, midstream and water supply/disposal companies in connection with the negotiation of employment and sponsor investment documents.
Representation of professional service providers in practice acquisitions (including outside buyers and internal buyers for succession planning purposes), including physician groups, public accounting firms, architecture firms, engineering firms and law firms.
Representation of major health system and physician group in formation of oncology joint venture and venture financing.
Advising early-stage start-ups on formation, capital structure and equity compensation and ownership.
EDUCATION
J.D., with honors, University of Oklahoma College of Law, 2007
~ Order of the Coif
~ Oklahoma Law Review
A.B. cum laude in Economics and History, Dartmouth College, 2004
AWARDS & HONORS
Best Lawyers
Real Estate Law
2018-2020
Super Lawyers
Rising Stars
Business/Corporate
Banking
Mergers & Acquisitions
Securities & Corporate Finance
2011-2019
PROFESSIONAL AFFILIATIONS
American Bar Association
Oklahoma Bar Association
Tulsa County Bar Association
CONTACT TOM
918-595-4858
E-mail Tom
Download contact information


 Connect on LinkedIn