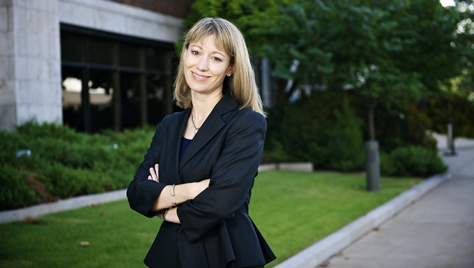 Amelia A. Fogleman
Amy Fogleman is a shareholder in the Tulsa office of GableGotwals. Her practice focuses on appellate law and complex commercial litigation. She represents numerous publicly traded companies, Native American tribes and tribal businesses, and privately held businesses. Amy has successfully represented clients in state and federal courts, including the Ninth and Tenth Circuit Courts of Appeals and the United States Supreme Court. She has also facilitated numerous settlements in her role as an Adjunct Settlement Judge for the court-ordered dispute resolution program in the U.S. District Court for the Northern District of Oklahoma.
Prior to joining the Firm, Amy was a law clerk to the Hon. Stephanie K. Seymour, Chief Judge, U.S. 10th Circuit Court of Appeals and to the Hon. Sven Erik Holmes, U.S. District Judge, Northern District of Oklahoma.
Amy is the Chairperson for the Local Civil Rules Subcommittee for the Northern District of Oklahoma. She has also been involved in a number of community organizations and currently serves as Secretary of the Board of Trustees for Holland Hall School and as a member of the Summit Club Board of Governors.
Amy's recent appellate experience includes:
Representing numerous oncology groups and putative nationwide class in Tenth Circuit appeal of federal preemption ruling entered in multi-district litigation brought against drug manufacturer for underfilling drug vials.
Representing oil and gas company in Oklahoma appeal of $2.4 million jury verdict for breach of joint operating agreement.
Successfully represented medical practice in suit brought by former partner. The Oklahoma Court of Civil Appeals affirmed the trial court's decisions to grant directed verdict in our clients' favor on wrongful discharge claim and to deny leave to amend the petition.
Obtained reversal in Oklahoma Court of Civil Appeals of default judgment entered against our clients as a discovery sanction.
Represented energy company in case arising from terminalling agreements. With one narrow exception regarding the amount of prejudgment interest, the Delaware Supreme Court affirmed the judgment in favor of our client and, on our cross-appeal, reversed the trial court's finding of fraud.
Represented patent owner in appeal of U.S. Patent Office's Decisions following inter partes review holding patents unenforceable.
Represented appellants challenging entry of injunctive relief enforcing restrictive covenants entered in connection with the sale of a nationwide business. The Oklahoma Supreme Court stayed the injunction pending appeal and ultimately reversed in part and affirmed in part.
Represented partnership in obtaining mandatory preliminary injunction (and affirmance by the Tenth Circuit) requiring investment manager to transfer to our client the title to oil and gas properties worth approximately $1 billion.
Amy's recent commercial litigation experience includes:
Representing tribal business in claims for breach of contract claim against pharmacy benefits manager.
Defending Fortune 500 oil and gas company against environmental claims brought by the State of New Jersey. Obtained partial summary judgment requiring co-defendant to fully indemnify our client in the case.
Represented Fortune 500 oil and gas company in a multidistrict antitrust proceeding brought against the client and other gas trading companies relating to alleged misreporting of natural gas prices.
Represented litigation trust in auditor malpractice case against major accounting firm in connection with the collapse of a large, privately-held company.
EDUCATION
J.D., University of Virginia School of Law, 1994
B.A. with honors, Oklahoma State University, 1991
AWARDS & HONORS
Best Lawyers
Lawyer of the Year-Tulsa
Appellate Practice – 2013 & 2017
Litigation-Antitrust – 2015
Appellate Practice
Commercial Litigation
Litigation-Antitrust
2008-2020
Super Lawyers
Business Litigation
Appellate
2008-2019
PROFESSIONAL AFFILIATIONS
American Bar Association
Oklahoma Bar Association
Tulsa County Bar Association
Litigation Counsel of America, Trial Lawyer Honorary Society, Fellow