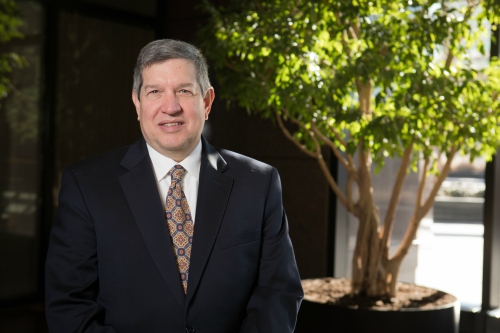 Jeffrey T. Haughey
Jeff Haughey is of counsel in the Tulsa office of GableGotwals. He is an experienced transactional attorney focused on mergers and acquisitions, securities, and corporate matters.
With more than 30 years of experience, Jeff has represented issuers in both public and private offerings of nearly $16 billion (including more than 10 IPOs), and has provided compliance reviews of periodic reports and proxy statements. He regularly represents clients in mergers and acquisitions on both the buy and sell side valued at more than $7.0 billion during his career.
Jeff has considerable experience with crisis management issues resulting from Chapter 11 reorganizations, financial distress due to changed market conditions and restatements of financial statements from accounting irregularities, and he has also implemented corporate reorganizations. He is well-versed in the compliance required by the Sarbanes-Oxley Act of 2002, Dodd-Frank, and the JOBS Act. In addition, Jeff has negotiated credit agreements, financing agreements and supply agreements, and has designed, drafted, and registered equity compensation plans.
Jeff's recent experience includes:
Capital Markets
Represented the purchaser of $43.5 million of convertible preferred stock from a publicly-traded Master Limited Partnership that provides pipeline inspections and integrity services to producers and pipeline companies and water and environmental services to U.S. onshore oil and natural gas producers and trucking companies.
Representing one of the nation's top 50 bank holding companies in its $150 million registered offering of Preferred Depositary Shares. Proceeds were combined with other available liquidity to repurchase $200 million of its common stock.
Assisting a leading, vertically integrated producer, marketer and distributor of ethanol, in its $150 million IPO of the first ever master limited partnership in the ethanol industry.
Advised a Canadian owner and operator of regulated and non-regulated utility businesses in North America in its Regulation S offering of Cdn. $172.6 million of common shares in Canada, along with the resale of a portion of these common shares to Qualified Institutional Buyers in the U.S.
Represented an owner of assets in the U.S. energy sector that performs utility-like functions such as pipelines, storage and rail terminals, and gas and electric transmission and distribution assets in its registered offering of $115 million of 7.00% convertible senior notes.
Represented a public bank holding company in its "at-the-market" equity program for the sale of $100 million of common stock over six months.
Counseled one of the world's largest manufacturers of steel and synthetic lifting products in its S-4 Registration Statement for the exchange offer of $425 million aggregate principal amount of 9.5% senior notes due in 2017, resulting in a reporting company with the SEC.
Represented several issuers in the filing of numerous universal shelf registration statements for an unlimited dollar amount of equity and debt securities.
Mergers & Acquisitions
Acted as Oklahoma counsel to an oil and gas exploration company in the sale of its assets for approximately $115 million pursuant to Section 363 of the Bankruptcy Code.
Represented a diversified energy company in its auction bid to acquire crude oil gathering and transportation assets.
Represented a large, public ethanol manufacturer in its $170 million private placement of convertible senior notes used to partially finance its $234.9 million acquisition of three ethanol plants out of bankruptcy; and the $258 million acquisition of one of the world's largest producers of food-grade vinegar.
Assisted a NASDAQ listed bank holding company in its acquisition of a Tulsa bank holding company for $40.6 million of its registered common stock.
Represented a manufacturer of lithium batteries in a joint venture with a large multinational chemical company to form a new company to make lithium batteries for electric vehicles using incentives from state and federal governments.
Represented an international manufacturer of steel castings in the purchase of $58 million of assets of a complimentary business in Canada.
Assisted an ethanol manufacturer in the sale of agribusiness assets for $144.6 million, including $27.8 million of debt assumed.
 Represented a small, public biotech company in the sale of its business.
Represented the Special Committee of the Board of Directors of a trucking company listed on Nasdaq in its sale back to the founder three years after the company's IPO.
Lending/Finance
Represented the operating company of an MLP in the $55 million increase of its $100 million revolving credit facility with the right to increase it by $100 million without the consent of the lenders.
Represented the buyer of a vinegar manufacturer in its secured credit facility consisting of a $130 million term loan and a $15 million revolving loan used in the acquisition.
Represented a manufacturer in the amendment of its secured credit facility to increase it by $120 million to $345 million.
EDUCATION
J.D. with distinction, University of Iowa College of Law, 1983
B.S. with high honors in Accounting, University of Illinois at Urbana-Champaign, 1980
AWARDS & HONORS
AV PREEMINENT
Martindale-Hubbell
Best Lawyers
Lawyer of the Year – Kansas City
Capital Markets Law 2013, 2016
Securities/Capital Markets Law
Securities Regulation, 2008-2020
Lexology Client Choice Awards
Colorado, General Corporate, 2014
Missouri, General Corporate, 2013
PROFESSIONAL AFFILIATIONS
Oklahoma Bar Association
Colorado Bar Association
Missouri Bar Association
The Society for Corporate Governance, Rocky Mountain Chapter, Vice President and Program Chairperson, 2015-2017
CONTACT JEFF
918-595-4837
E-mail Jeff
Download contact information


Connect on LinkedIn