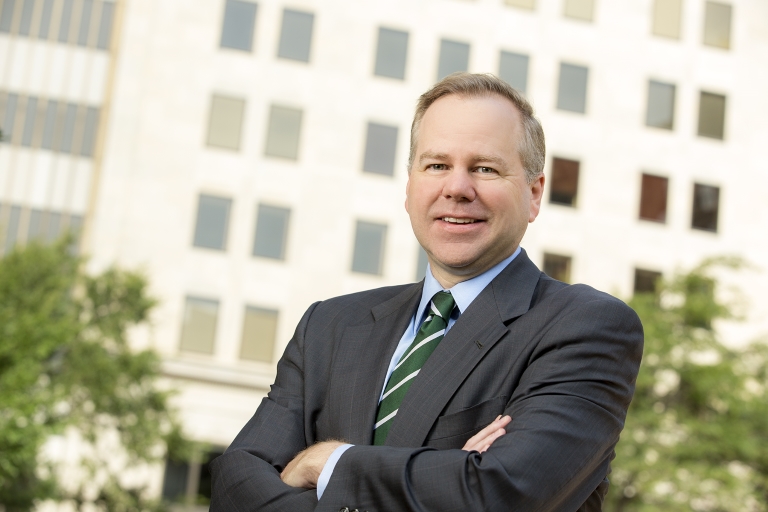 Jay P. Walters
Jay Walters brings wide-ranging experience to his practice at GableGotwals. A veteran attorney, Jay has represented business, individual, and tribal clients in a variety of complex civil cases before federal and state courts as well as arbitration panels.
Jay has litigated cases before courts at all levels involving energy, antitrust, securities, derivative actions, insurance, business torts, contracts, tribal gaming, and cultural litigation, in addition to other areas of law. He has worked on both trials and appeals and is experienced in class and shareholder actions as well. He also served as a Judicial Law Clerk for U.S. District Judge Robin Cauthron.
An honors graduate, Jay received his Juris Doctor from The George Washington University Law School in 1996 after earning his undergraduate degree from Austin College. Jay has been recognized by Best Lawyers in America, Oklahoma Super Lawyers, and received Martindale-Hubbell's AV Preeminent Rating.
Jay is a volunteer attorney with Oklahoma Lawyers for Children. He also serves on the Magistrate Judge Merit Selection Panel for the Western District of Oklahoma and the Board of Directors for the Federal Bar Association's Oklahoma City Chapter. In addition, Jay is active on the Business Litigation Committee for the American Bar Association; the American Inns of Court XXIII; as a Moot Court Coach Volunteer for the Youth Leadership Exchange; and the Board of Directors for the Red Bud Foundation, Inc.
Recent Experience:
Obtained dismissal of shareholder derivative claims against director and officer of public oil and gas company.
Defend independent oil and gas company in class action brought by royalty owners.
Appellate counsel in numerous appeals before the Supreme Court of the United States, U.S. Court of Appeals for the Tenth Circuit, and the Oklahoma Supreme Court.
Lead counsel in the Supreme Court of the United States' reversal of an Oklahoma Supreme Court decision denying arbitration. Nitro-Lift Techs., L.L.C. v. Howard, — U.S. –, 133 S. Ct. 500 (2012).
Successful representation of Indian Tribes, gaming vendors, and others in Federal, State, and Tribal courts on matters involving gaming, traditional spiritual and religious rights, tribal membership, and sovereign immunity.
EDUCATION
J.D., The George Washington University Law School, 1996
B.S., Austin College, 1991
AWARDS & HONORS
AV PREEMINENT
Martindale-Hubbell Lawyer Ratings
Best Lawyers
Lawyer of the Year – Oklahoma City
Native American Law -2016
Litigation – Securities -2018
Litigation-Mergers & Acquisitions
Litigation-Securities
Native American Law
2013-2020
Super Lawyers
Business Litigation
General Litigation
Appellate
2006, 2008-2010, 2013-2019
PROFESSIONAL AFFILIATIONS
Federal Bar Association – President Elect
American Bar Association
Oklahoma Bar Association
Oklahoma County Bar Association
Virginia Bar Association
District of Columbia Bar Association