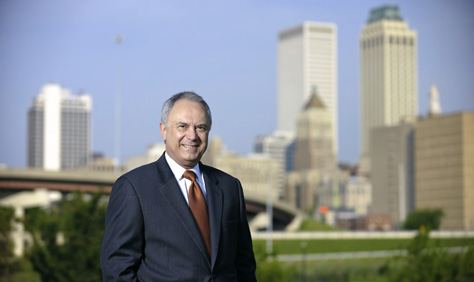 Stephen A. Schuller
Steve Schuller is a shareholder in the Tulsa office of GableGotwals. He has represented developers, investors and entrepreneurs in all aspects of the acquisition and sale of real estate, oil and gas properties and investments, and other major business assets for more than 40 years. He has handled complex financing transactions associated with such acquisitions, leasing (both documentation and enforcement), the planning and zoning process (both the administrative/regulatory level and in judicial and appellate proceedings), and recovery and work-out situations (including disposition of assets in foreclosures and bankruptcies). He regularly appears before local planning commissions and municipal governments, and he has successfully obtained the approval of a variety of commercial and mixed-used real estate developments. Our clients regularly consult with Steve on real estate acquisition and development issues, as well as specialized topics such as easements and rights of way and municipal utility franchises. In addition, Steve has represented international business organizations and individuals establishing operations in Oklahoma, as well as assisting domestic firms in trans-national transactions.
Steve was first listed in the Martindale-Hubbell Bar Register of Preeminent Lawyers (for General Practice and Real Estate Law) as a solo practitioner in 1995, and he has been listed annually in The Best Lawyers in America (Real Estate Law, Real Estate Litigation, and Land Use and Zoning Law) beginning in 2006.
Steve was a member of the Board of Trustees of the Oklahoma State University Medical Center Trust, serving on its Long Range Planning Committee, until the Trust was dissolved and the Medical Center transferred to a state agency. He was a Member of the Board of Trustees of the Employees' Retirement System of Tulsa County, Oklahoma, from 1990-2020. He served as one of the Trustees of the Tulsa Authority for the Recovery of Energy, a public trust authority established by the City of Tulsa, from 2002 to 2011, and was its Chairman in 2006-2007. In 2006, then-Mayor Bill LaFortune selected Steve to serve on the Citizens' Commission on City Government, an advisory board examining the City of Tulsa's governmental structure. In addition, Steve served as a Member of the City of Tulsa's Sales Tax Overview Committee from 1991 to 1994.
He is conversationally fluent in German.
Steve's representative experience includes:
Advising a client in the development of a regional shopping center.
Advising a client in securing municipal zoning approval of a highly contested church parking lot expansion.
The organization of a group of property owners for the development of their property in Downtown Tulsa for the construction of a national-franchise hotel, including the organization of the development company, and the negotiation of all development contracts and ancillary arrangements.
Negotiation of a sanitary sewer construction and development agreement between an international service company (the client) and a local municipality, and the preparation of the pertinent documents, with the contemporaneous negotiation of the de-annexation of the client's property from one neighboring municipality as a prerequisite to the annexation of the client's property into the other municipality, and the preparation of all annexation/de-annexation agreements.
Securing the requisite zoning approval for re-zoning and a Planned Unit Development for a major multi-city convenience store operator's new store development.
EDUCATION
J.D., University of Tulsa College of Law, 1976
B.A., Northwestern University, 1973
PROFESSIONAL AFFILIATIONS
Oklahoma Bar Association
Tulsa County Bar Association
Tulsa Title and Probate Lawyers Association
CONTACT STEPHEN
918-595-4800
E-mail Stephen
Download contact information


 Connect on LinkedIn