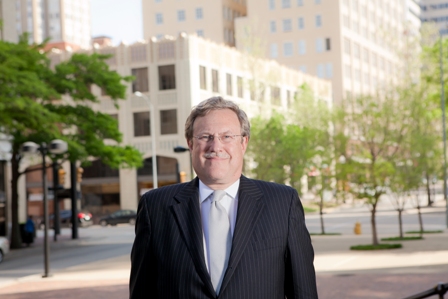 Graydon D. Luthey, Jr.
Dean Luthey is a shareholder in the Tulsa office of GableGotwals. Dean is a 30-year litigator who has been recognized repeatedly by his peers and clients for his litigation experience including in Native American law. In addition, Dean serves as general counsel of the Oklahoma Indian Gaming Association.
His honors include an individual AV rating through Martindale-Hubbell; as an Oklahoma Super Lawyer in Business Litigation; selected a Best Lawyer in America in Bet-the-Company Litigation, Commercial Litigation, Corporate Governance Law, Corporate Compliance Law, Gaming Law and Native American Law; and has been named a local litigation star by Benchmark Litigation. Further, he was named the 2019 Tulsa Lawyer of the Year in Native American Law by Best Lawyers. In addition, he holds a Band 1 ranking in Indian Law in Chambers USA. Dean has been selected by the American Bar Foundation as the Outstanding State Chair for the Fellows of the ABA. Further, in 2011 he was presented with a Leadership Law award from the Oklahoma Bar Association and the Journal Record, as well as named to the inaugural "Men of Distinction" list published by the Tulsa Business Journal. Dean was honored as one of three winners of the inaugural Hargrave Prizes given for the three top papers published by the Symposium. The prize is named for the Honorable Rudolph Hargrave, retired Justice of the Oklahoma Supreme Court. Dean's paper was "Amending the Model Tribal Gaming Compact."
Dean has argued appeals before the U.S. Supreme Court and various federal and state appellate courts and has handled matters in federal and state trial courts and agencies across the country. Among his clients have been major energy companies, Fortune 500 companies, Indian Tribes, national churches, state and local governmental entities, insurance companies, Big 4 accounting firms, law firms and health care providers.
Dean has had extensive involvement with the Tulsa area community and beyond including the Tulsa Area United Way Board of Directors; Chairman of the State of Oklahoma Economic Development Board, Chairman of the State of Oklahoma University Hospitals Authority, University of Oklahoma College of Arts & Sciences Board of Visitors, The Tulsa Ballet Executive Committee, the Episcopal Theological Seminary of the Southwest, Austin, Texas, Executive Committee and Board of Trustees, the Oklahoma Center for Community Justice Executive Committee, and Natureworks Board of Directors. Dean has been active as a teacher and lecturer both locally and nationally. He became an Adjunct Full Professor of Law at the University of Tulsa in 1984.
Highlights of Mr. Luthey's practice at several firms include:
Obtained $90 million cash in arbitration for energy, marketing and trading company from a national electric utility.
Obtained Writ of Certiorari and orally argued tax case for Indian Tribes before U.S. Supreme Court.
Successfully represented and settled for a Big 4 accounting firm defendant in multiple securities fraud class actions.
Obtained on behalf of the Legislature only the second writ of prohibition in history against a sitting governor from Oklahoma Supreme Court.
Obtained injunction, upheld on appeal, for Indian Gaming Manufacturers against U.S. Attorney General, Department of Justice and National Indian Gaming Commission prohibiting enforcement of civil and criminal gaming laws.
Obtained summary judgment in favor of a national church, resolving the question of ownership of the local church property resulting from the local church's departure from the national denomination.
Argued before the Court of Appeal of the State of California and obtained a unanimous opinion for publication denying a petition for mandamus seeking production pursuant to subpoena in that civil case of attorney work product privileged material previously produced by our client to federal investigators. In a nationwide appellate case of first impression, the court held that the federal government's threat of potential indictment if the privileged materials were not produced constituted coercion which prevented the production, constituting a waiver of the privilege.
Obtained, as co-lead counsel, summary judgment in favor a national energy company defeating securities claims in a certified class action.
Successfully led team which obtained withdrawal of proposed federal Indian Gaming regulations that would have destroyed Class II Gaming nationwide.
Obtained as Lead Counsel, a summary judgment for a national energy company in a multi-district class action anti-trust case concerning energy pricing.
EDUCATION
J.D., University of Oklahoma College of Law, 1979
Oxford University (1976) Visiting Research Fellow
B.A. in Letters, with highest honors, University of Oklahoma, 1976
AWARDS & HONORS
AV PREEMINENT
Martindale-Hubbell Lawyer Ratings
Benchmark Litigation
General Commercial
Securities
Energy
Indian Law
2013-2019
Best Lawyers
Lawyer of the Year – Tulsa
Native American Law – 2012
Gaming Law – 2014 & 2017
Corporate Governance Law – 2016
Native American Law – 2019
Commercial Litigation
Corporate Compliance Law
Corporate Governance Law
Corporate Law
Gaming Law
Native American Law
2007-2020
Super Lawyers
Business Litigation
Native American Law
Energy & Natural Resources
2006-2019
CHAMBERS USA
Litigation: General Commercial and Native American Law Ranked Individual
2013-2020
PROFESSIONAL AFFILIATIONS
General Counsel, Oklahoma Indian Gaming Association
Chancellor (General Counsel) – Episcopal Diocese of Oklahoma (1984-1999)
Presiding Judge – Oklahoma Court of Appeals (Temporary Division) (1991-1992)
Past President – local American Inns of Court
Elected Member – American Law Institute
Fellow, Litigation Counsel of America, Trial Lawyer Honorary Society
Elected General Member, International Masters of Gaming Law
Federal Bar Association
CONTACT DEAN
918-595-4821
E-mail Dean
Download contact information


 Connect on LinkedIn