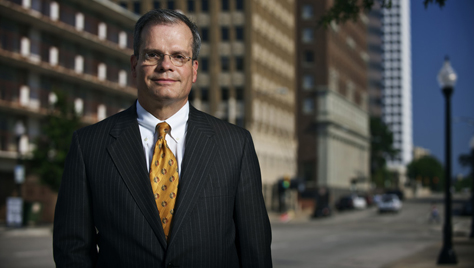 Sidney K. Swinson
Sid Swinson is a shareholder in the Tulsa office of GableGotwals and has more than 40 years of legal experience, representing parties in bankruptcy cases and other commercial litigation. His bankruptcy practice consists of serving since 1987 on the panel of chapter 7 bankruptcy trustees for the United States Bankruptcy Court for the Eastern and Northern Districts of Oklahoma, representing other trustees in bankruptcy cases, representing creditors in bankruptcy cases under all chapters, and representing business debtors in chapter 7 and chapter 11 bankruptcy cases.
Sid has held leadership positions in the Oklahoma Bar Association, including serving on the Professional Responsibility Tribunal, on which he served as Chief Master for three years, and is presently Chair of the Professional Responsibility Commission. For many years he has served as Director, with two stints as Chair, of the Bankruptcy and Reorganization Section of the Oklahoma Bar Association. In 1998, Sid was presented with the Courageous Lawyer Award, and in 2009, he received the John E. Shipp Award for Ethics by the Oklahoma Bar Association. Sid has likewise been honored by the Tulsa County Bar Association from whom he received the Neil E. Bogan Award for Professionalism, the Golden Rule Award, and in 1987 was named Outstanding Junior Lawyer.
From 1993 until 2016 Sid was an Adjunct Professor of Law at the University of Tulsa College of Law. He is a co-author of three editions of a textbook, the most recent of which is: Introduction to Bankruptcy Law, Sixth Edition 2012 (Thomson Publishing Co.). Sid is a Fellow in the prestigious American College of Bankruptcy. He also serves as an Adjunct Settlement Judge for the United States District Court and Bankruptcy Court for the Northern District of Oklahoma. Sid serves as Diocesan attorney for the Roman Catholic Diocese of Tulsa and is a member of the National Association of Diocesan Attorneys.
EDUCATION
J.D., University of Tulsa College of Law, 1980
B.B.A., University of Notre Dame, 1977
AWARDS & HONORS
AV PREEMINENT
Martindale-Hubbell  Lawyer Ratings
Best Lawyers
Lawyer of the Year – Tulsa
Bankruptcy and Creditor Debtor Rights / Insolvency and Reorganization Law – 2011, 2015 & 2017
Litigation – Bankruptcy – 2012 & 2016
Bet-the-Company Litigation -2018
Litigation – Bankruptcy – 2019
Bankruptcy & Creditor/Debtor Rights/ Insolvency and Reorganization Law
Bet-the-Company Litigation
Litigation – Bankruptcy
2005-2020
Super Lawyers
Oklahoma Top 50-2016
Bankruptcy & Creditor/Debtor Rights
Business Litigation
2006-2019
PROFESSIONAL AFFILIATIONS
American Bankruptcy Institute
Fellow, American College of Bankruptcy
National Association of Bankruptcy Trustees
Oklahoma Bar Association
Tulsa County Bar Association
US Conference of Catholic Bishops
National Diocesan Attorney Association