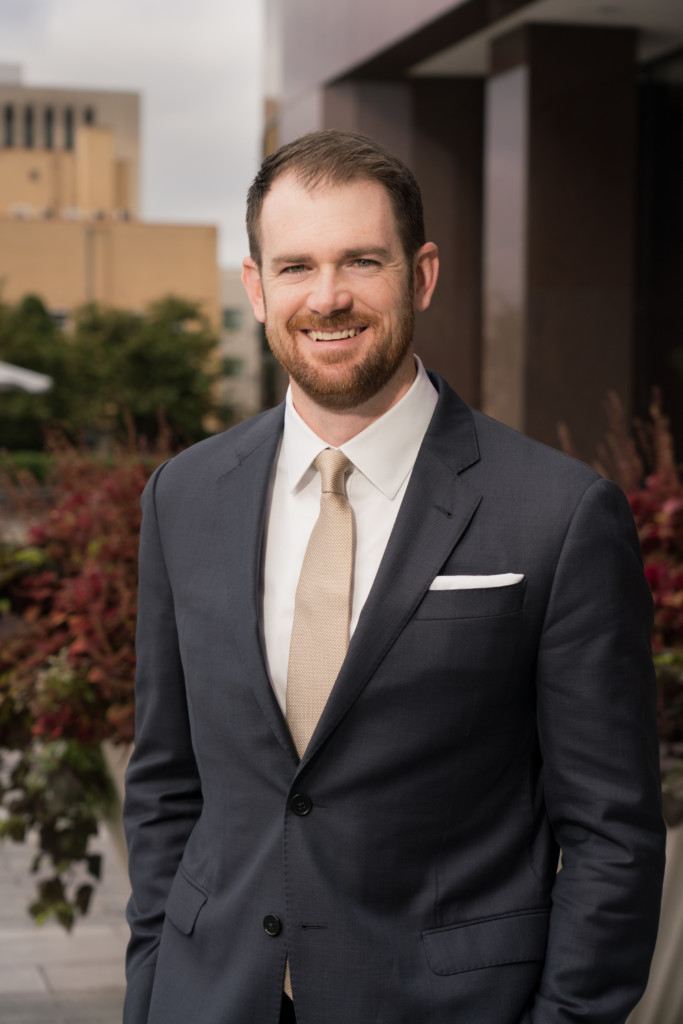 Timothy J. Sullivan, Jr.
Tim Sullivan is of counsel in the Tulsa office of GableGotwals. He represents companies in complex commercial and civil litigation, with a focus on the oil and gas industry. He has extensive experience representing publicly-traded oil and gas companies in litigation in state and federal courts nationwide. In addition to his work for clients in the energy industry, he has substantial experience representing clients in the financial services, pharmaceutical, and software industries.
Prior to joining GableGotwals in 2018, Tim spent eight years in the Washington, D.C. office of King & Spalding.
A native of Tulsa, Oklahoma, he received his J.D. from Notre Dame Law School in 2009 and received his B.A. from Loyola University of New Orleans with honors in 2005.  As an undergraduate, he studied at the Universidad Iberoamericana in Mexico City, and prior to law school, he spent nearly a year in Santiago, Chile, working for Chile's largest law firm while taking MBA courses at the Universidad de Chile.
Tim's recent experience:
Representing a Fortune 500 midstream oil and gas company in a contract dispute over gas purchase agreements in Oklahoma state court.
Representing an international Fortune 500 oil and gas company in lawsuits in Oklahoma state court concerning royalty payments.
Representing a publicly-traded midstream oil and gas company in Texas state court regarding a dispute over a pipeline construction contract.
Represented an international oil and gas company in legacy lawsuits in Oklahoma state and federal court concerning alleged groundwater contamination.
Represented an international oil and gas company in actions filed in California state court by a municipality, which involved a first-of-its-kind claim for lost property taxes in addition to suits brought by 30,000 area residents for personal injuries and property damages in connection with a refinery fire.
Counseled an international oil and gas company in the U.S. District Court, District of
Maryland, regarding breach of contract, indemnification and other claims arising out of leaks from an underground pipeline near Baltimore harbor.
Advised an applicant in the Department of Justice's Antitrust Division's Corporate Leniency Program in a nearly two-year internal investigation. The Justice Department closed the investigation.
Represented an international oil and gas company in a state Attorney General's office investigation concerning royalty payments.
Obtained summary judgment dismissal for a national accounting firm in a tax malpractice case in Texas district court and the Texas Court of Appeals.
Advised a Big Four accounting firm in a civil lawsuit concerning fraud, malpractice, breach of contract and RICO claims.
Represented a Big Four accounting firm partner in the first contested PCAOB disciplinary proceeding.
Obtained favorable settlement for mobile phone software manufacturer in breach of contract and unfair competition case relating to licensing terms, in a case before the U.S. District Courts of Delaware and the Northern District of California, the U.S. Court of Appeals for the Ninth Circuit, and an UNCITRAL arbitration in London.
Obtained dismissal of all claims against global real estate company in suit filed in the U.S. District Court, Southern District of New York by representatives of the Occupy Wall Street movement.
Represented major oil and gas companies in UNCITRAL international arbitrations against South American and North African countries concerning violations of international obligations under bilateral investment treaties.
Counseled a national pharmaceutical company regarding a Congressional investigation into the marketing of opioid pain medications.
Represented an engineering consulting company in a Congressional investigationinto a Department of Energy grant award program.
PRACTICE AREAS
EDUCATION
J.D., Notre Dame Law School, 2009
B.A., Loyola University, New Orleans, LA, 2005
PROFESSIONAL AFFILIATIONS
Oklahoma Bar Association
Tulsa County Bar Association
District of Columbia Bar Association
Maryland Bar Association
Advisory Board, Institute for Energy Law
Leadership Class, Institute for Energy Law, 2019-2020