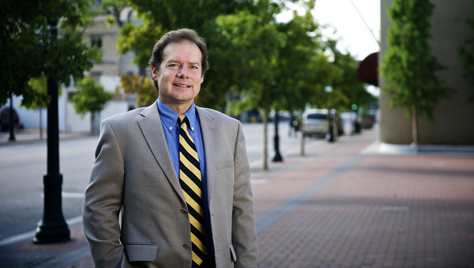 Mark D. G. Sanders
A fourth-generation Tulsan, Mark D.G. Sanders joined GableGotwals in 2009, after 23 years of legal practice outside of Oklahoma.  Immediately prior to his relocation to Tulsa, Mark had served for over 15 years as Law Clerk to the Honorable Albert S. Dabrowski, Chief United States Bankruptcy Judge for the District of Connecticut.  Prior to his tenure with the Court, Mark was engaged in private practice in Missouri and Connecticut.
Mark's practice focuses primarily in the areas of bankruptcy, insolvency and commercial litigation.  His clientele and modes of practice have been wide-ranging.  In the bankruptcy context, he has counseled and represented (i) secured and unsecured creditors in, and in anticipation of, cases under Chapters 7, 9, 11, 12 and 13 of the Bankruptcy Code; (ii) standing and case trustees in Chapter 7 and 13 cases; (iii) committees of creditors and equity holders in Chapter 11; and (iv) consumer and business debtors in, and in anticipation of, cases under Chapters 7, 9, 11 and 13.  Mark's non-bankruptcy practice has focused upon general commercial litigation, real estate foreclosure, "workout" negotiations and credit restructuring arrangements.
Mark has taught Bankruptcy & Reorganization as an Adjunct Professor at the University of Tulsa School of Law.  He is also a member of the Board of Directors of DVIS-Call Rape (Domestic Violence Intervention Services).
In law school Mark wrote for the Columbia Human Rights Law Review.  At Occidental College he was Student Body President and received the Economics Department's Outstanding Senior Thesis Award.  He is also a cum laude graduate of the Holland Hall School in Tulsa.
Mark is married, and the father of three.  He is an avid runner and a committed community activist, historical preservationist and amateur archeologist.
Mark's recent experience includes:
Representation of Chapter 11 debtor in successful reorganization of large regional manufacturing concern
Counsel for dissident secured lender group in SemGroup Chapter 11 case in the District of Delaware
Representation of regional building products supplier in successful defense of $1 million+ preferential transfer claim
Successful reorganization of non-profit social service entity in contested small business case under Chapter 11
Representation of large construction company in successful Chapter 11 reorganization
EDUCATION
J.D., Columbia University School of Law, 1986
B.A. in Economics, Occidental College, 1982
PROFESSIONAL AFFILIATIONS
Oklahoma Bar Association
Tulsa County Bar Association