David Bryant Selected as 2013 Power Attorney by Tulsa Business Journal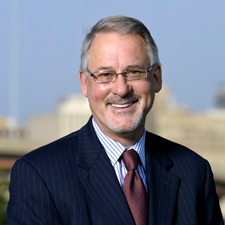 David Bryant was chosen by a committee of judges from a meritorious group of nominees, David Bryant, has been awarded the 2013 Power Attorney distinction by the Tulsa Business Journal. This is the third year for the award to be granted. David joins GableGotwals Shareholders, David Keglovits, Sidney Swinson and Dean Luthey, Jr., in receiving this honor.
Earlier this year, David also received national recognition as he was inducted as a Fellow of the American College of Trial Lawyers. David has over 30 years of legal experience. His clients consist of domestic and international companies, governmental agencies and individuals. His practice involves a diverse mix of complex commercial litigation, with emphasis on business insurance disputes, professional liability claims, banking litigation, and business contract and tort litigation. David is admitted to practice before the United States Supreme Court, the Tenth Circuit Court of Appeals, and the Oklahoma Federal Courts in the Northern and Western Districts. He is also a member of the Texas Bar.