GableGotwals COVID-19 Employer Compliance Package Available Now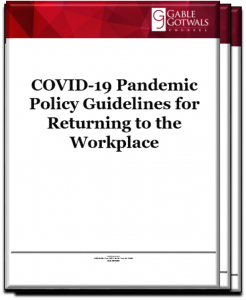 As states and municipalities begin to loosen the stay-at-home orders issued in response to the COVID-19 pandemic, employers must consider a number of factors in determining when and how to reopen their workplaces. Regulations and guidance are evolving on a near-daily basis. For example, the CDC recently released a flowchart to assist employers in deciding whether to reopen, and FEMA published a starter kit that business leaders should consult before returning to full operations. While these resources are helpful, they do not provide a comprehensive approach that employers must follow in order to comply with federal and state law.
GableGotwals remains on the cutting edge of COVID-19-related issues by monitoring developments as they occur in real-time. In order to enable our clients to make updated and informed decisions regarding their workplaces, our Employment & Labor team has created a comprehensive policy package for employers. The package details compliance with guidance released by the CDC, OSHA, EEOC, and FEMA, as well as the Opening Up America Again Act and the Open Up and Recover Safely Plan. While the package is available for a flat fee, it includes customized advice tailored to meet the needs of the individual client.
To purchase the Compliance Package and get the help you need implementing key COVID-19 policy guidelines right away, please contact Ellen Adams (OKC Practice Group leader) or Chris Thrutchley (Tulsa Practice Group Leader).