GableGotwals Announces its 2019 Summer Internship Program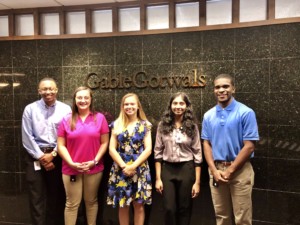 GableGotwals welcomes five students who will participate in its 2019 summer internship program. The interns will support various functions in the office including, Legal Services, Records, and Information Technology. "We are excited for the opportunity to work with this talented group of future young professionals. The internship program allows the students to experience the various departments to better understand how our law firm functions and to learn new skills," said Patti Flynn, Director of Administration and Human Resources.
Shruthi Boggarapu was Cultural Coordinator intern for the International Students Organization at OSU, Stillwater and is the former Vice President of the Leadership Development Association, a non-profit organization in India for Women empowerment sector. She received her Bachelors of Technology, Electrical, and Electronics Engineering degree from Hyderabad, India and is obtaining her Masters of Science in Management Information Systems from Oklahoma State University. Joshua Edwards is a Member at Large of Men of Power and the African American Society, a Junior Leader at John 3:16 North Tulsa Young Life, and President of the Good Vibes Only Social Club. He is a graduate of Booker T. Washington and will be attending Jackson State University in the fall. Ava Ernst  is a member and volunteer of the National Charity League she is currently building an app prototype to aid dog adoptions. Ava is an avid soccer player, playing since she was three, and is currently a referee at the Metro Tulsa Soccer Club. She will be a senior at Bishop Kelley High School in the fall. Deanrea Sykes is a Member at Large of Men of Power, the African American Society, the Good Vibes Only Social Club, and was elected as Senior Class President at Booker T. Washington. He will be attending Oklahoma University in the fall. Alyssa Hawley is a member of Sigma Phi Lambda, the American Red Cross, Our Daily Bread, Cowboython, and is a Prayer Group Leader. She is a graduate of Kellyville High School and will be a Sophomore at Oklahoma State University in the fall.