Chambers USA Recognizes 15 Attorneys and the Firm Overall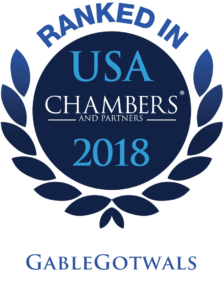 GableGotwals has been recognized as a Leading Firm in the areas of Energy and Natural Resources (Band 2), General Commercial Litigation (Band 2) and Corporate/Commercial (Band 3) and was added this year as an "Other Noted Firm" in the area of Native American Law.  The qualities on which Chambers USA rankings are assessed include technical legal ability, professional conduct, client service, commercial astuteness, diligence, commitment, and other qualities most valued by the client. Interviews are conducted with peers outside of the firm and clients in order to determine inclusion and rankings.
Fifteen GableGotwals attorneys have also been named as 'Leaders in their Field' in the 2018 Chambers USA rankings. Areas of law ranked include Corporate Commercial: Health Care, Energy & Natural Resources, Intellectual Property, Litigation, Native American Law and Real Estate.
Attorneys recognized include:
Corporate/Commercial—Health Care
Robert Glass (Band 2)
Energy & Natural Resources
Steven Adams (Band 2)
Dale Cottingham (Band 2)
Lloyd Landreth (Band 1)
Richard Noulles (Band 3)
Terry Ragsdale (Band 2)
Rob Robertson (Band 2)
Intellectual Property
Todd A. Nelson (Band 2)
Litigation—General Commercial
David Bryant (Band 2)
Oliver Howard (Band 2)
David Keglovits (Band 2)
Dean Luthey (Band 3)
James Sturdivant (Senior Statesmen)
Native American Law
Dean Luthey (Band 1)
Real Estate
Stephen Schuller (Band 3)
Comments on the Firm and attorneys included:
Corporate/Commercial – Oklahoma
What the team is known for Full-service offering, covering M&A and securities transactions, financings and both transactional and contentious healthcare and tax-related mandates. Frequently acts for Oklahoma's leading oil and gas companies.
Strengths: One pleased client says: "They know the company very well and provide skilled people. They are really capable across the board and provide a really good service."
Notable practitioners:
Robert Glass advises numerous participants in the healthcare market on both transactional and contentious matters. He is also equipped to handle a wide range of regulatory matters affecting the healthcare industry.
Energy & Natural Resources Oklahoma
What the team is known for Over 60 years' experience in the handling of oil and gas-related issues, not only in Oklahoma, but also in Texas and Kansas, providing both litigation services and specialist support on transactions. Also offers niche expertise concerning title examinations, royalty disputes and regulatory compliance issues, particularly those involving fracking operations or matters considered by the Oklahoma Corporation Commission.
Notable practitioners:
Lloyd Landreth primarily practices in the environmental space, focusing on regulatory matters and litigation. He is regularly called on to advise clients on water, air and soil pollution.
Steven Adams focuses on contentious matters, offering skills in class action cases as well as single-plaintiff cases. He has many years of trial experience and is regularly involved in hearings before regulatory agencies.
Dale Cottingham centers his practice on environmental disputes. He advises on water law, including groundwater pollution and permitting, as well as oil and gas-related issues.
Richard Noulles handles a variety of oil and gas disputes on behalf of major companies and is adept at assisting with class action suits. He also has experience with oil and gas property title claims and tax issues, among other cases.
Terry Ragsdale continues to litigate on behalf of numerous energy companies. He is able to advise clients on Oklahoma-based issues, as well as matters which include assets or operations in other states.
Rob Robertson is described as "a really good guy and an excellent lawyer" by one source. He has a varied litigation practice, covering financial disputes as well as energy and environmental cases.
Intellectual Property
Todd A. Nelson of GableGotwals is well thought of in the market, with peers particularly highlighting his trademark work and litigation expertise. His practice includes work on the alleged infringements of patents in the technology and manufacturing spaces.
Litigation – General Commercial Oklahoma

What the team is known for Full-service dispute resolution offering, including the handling of appellate cases to US Supreme Court level, arbitration and mediation. Acts for Oklahoma-based clients across the country and national companies with Oklahoman interests. Maintains key strengths in oil and gas royalty and class action, construction, financial services and product liability issues. Further noted for its electronic discovery expertise.
Strengths "It is one of the best litigation firms in the state," says one impressed source.
Notable practitioners:
Oliver Howard is a well-regarded litigator drawing on extensive experience across the energy sector, particularly in the oil and gas market. His practice also incorporates acting on behalf of clients engaged in environmental litigation.
James Sturdivant has a wealth of experience with antitrust matters and issues affecting the energy sector. He is a recognized figure and is known as a "go-to person for important information."
David Bryant handles contentious matters on behalf of clients in the insurance and energy industries. He is well versed in antitrust disputes, malpractice cases and trade secret issues.
David Keglovits advises on issues ranging from disputes involving energy companies to insurance cases to Native American legal battles.
Dean Luthey is recognized as "a tough litigator in just about any area." He has a notable appellate practice. He advises on a range of contentious issues, including Native American and gaming matters.
Native American Law
Dean Luthey of GableGotwals enjoys a very strong reputation as a "really outstanding" attorney. His primary focus is litigation, including disputes in the energy sector, and he is noted for his extensive work in gaming cases on behalf of tribes.
Real Estate
Stephen Schuller of GableGotwals has extensive experience advising on all types of commercial real estate transactions from financing and purchases to leasing. He is also adept at handling zoning matters.