Chambers USA Recognizes 14 Attorneys and the Firm Overall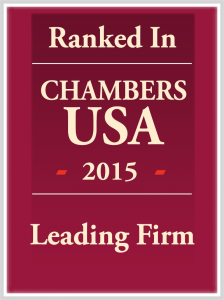 GableGotwals has been recognized as a Leading Firm in the areas of Energy and Natural Resources (Band 2), General Commercial Litigation (Band 2) and Corporate/Commercial (Band 3). The qualities on which Chambers USA rankings are assessed include technical legal ability, professional conduct, client service, commercial astuteness, diligence, commitment, and other qualities most valued by the client. Interviews are conducted with peers outside of the firm and clients in order to determine inclusion and rankings.
Fourteen GableGotwals attorneys have also been named as 'Leaders in their Field' in the 2015 Chambers USA rankings. Areas of law ranked include Corporate Commercial: Health Care, Energy & Natural Resources, Intellectual Property, Litigation, Mediation, Native American Law and Real Estate. Attorneys recognized include:
Corporate/Commercial—Health Care
Robert Glass (Band 2)
Energy & Natural Resources
Steven Adams (Band 2)
Dale Cottingham (Band 2)
Richard Noulles (Band 3)
Terry Ragsdale (Band 2)
Rob Robertson (Band 2)
Intellectual Property
Paul Johnson (Senior Statesmen)
Litigation–Mediators
Steve Barghols (Band 1)
Litigation—General Commercial
David Bryant (Band 2)
Sidney Dunagan (Band 2)
Oliver Howard (Band 2)
Dean Luthey (Band 3)
James Sturdivant (Senior Statesmen)
Native American Law
Dean Luthey (Band 1)
Real Estate
Stephen Schuller (Band 3)
Comments on the Firm and attorneys included:
Energy & Natural Resources (Band 2)
What the team is known for: Experienced team representing all types of oil and gas clients in transactions and disputes, both in and out of state. Key areas of expertise include title examination services, royalty and lease disputes and environmental regulatory compliance.
Strengths: (Quotes mainly from clients)
"Strong for oil and gas litigation."
Work highlights: Defended Superior Pipeline against an oil and gas producer's claim to a percentage of Superior's proceeds from its condensate sales. A successful outcome was achieved at district court, Oklahoma Court of Civil Appeals and Oklahoma Supreme Court levels, with the last tribunal also awarding Superior 100% of its attorneys' fees.
Acted in a complex deal for a client purchasing a crude oil pipeline in the Houston region from an entity in which it had a 50% interest. The transaction, valued at over $1 billion, also entailed the client's agreement to a third party taking over the remaining 50% stake in the pipeline's original owner.
Notable practitioners:
Dale Cottingham practices across a wide range of issues, including oil and gas royalty class actions and matters concerning wind energy projects. He is particularly well known for his water law expertise. "Excellent lawyer"
Terry Ragsdale acts chiefly for energy companies on transactional and contentious matters, and is particularly experienced in handling royalty-related class actions and complex contractual disputes.
Steven Adams recently joined the practice from Fellers Snider, and has a reputation as a "fine lawyer." He has extensive experience in trials at state and federal level, including as a district judge, and has handled a number of oil and gas royalty underpayment and environmental contamination cases.
Rob Robertson is a well-known and highly regarded litigator of oil and gas and other energy-related disputes. His familiarity with royalty class actions is noted in particular.
Richard Noulles enters the rankings this year due to increasing market recognition for his oil and gas litigation practice. He is highly experienced, and acts extensively on disputes concerning royalties, title claims and severance tax demands.
Significant clients: Cimarex Energy, Eagle Rock Energy
Litigation – General Commercial (Band 2)
What the team is known for: Provides a comprehensive litigation and alternative dispute resolution service for businesses, government entities and private individuals. Particularly well known for its work in the oil and gas, construction and healthcare sectors. Other areas of expertise include appeals and class actions, and financial services and product liability disputes.
Work highlights: Successfully defended Aetna Life Insurance in a Tenth Circuit appeal concerning a plaintiff's claim that the company acted arbitrarily and capriciously in denying her ERISA-related disability benefits after consulting five independent experts and preferring their assessment to that of two treating physicians.
Notable practitioners:
James Sturdivant has the experience of more than 100 trials over half a century of practice, in areas such as antitrust, securities, trade regulation and business disputes. He is particularly familiar with the oil and gas sector.
Steven Barghols enjoys "a really good reputation" for his skills as a mediator, with sources indicating that his services are very much in demand. He also appears in arbitrations and maintains a litigation practice focusing on disputes within the oil and gas sector.
David Bryant is described by one source as GableGotwals' "flagship litigator," while other sources confirm that he is an excellent practitioner deserving of wide recognition. He specializes in contractual, insurance and tort litigation, and in professional liability disputes.
Sidney Dunagan is best known for handling class actions and also acts on matters of product and professional liability. He is especially familiar with disputes arising from oil and gas and environmental law questions.
Oliver Howard has represented clients in state and federal courts in over 20 states for more than 35 years, particularly in Oklahoma, Arizona, New Jersey and Texas. He is especially knowledgeable in relation to oil and gas, environmental and utility-related cases, with one source noting that he "is very responsive and provides really good service."
Dean Luthey is best known as one of Oklahoma's leading Native American law practitioners, but sources are eager to stress that he is by no means limited to that sphere and enjoys a reputation as "a very fine lawyer" and a smart, hard-working and "very able business litigator" across a wide range of areas. He has acted on matters up to US Supreme Court level, and is particularly well acquainted with disputes within the oil and gas, securities and gaming sectors.
Corporate/Commercial (Band 3)
What the team is known for: Long-established association with the Oklahoma oil and gas industry and a growing profile in the representation of MLPs, healthcare providers and financial institutions. Also offers expertise regarding complex loan transactions, workouts and banking and financial services compliance issues.
Strengths: (Quotes mainly from clients) "It's a very fine outfit, represents us in many, many different matters, plays a large role in our operations and does a great job."
Notable practitioners:
Robert Glass acts across the full range of transactional, regulatory and contentious healthcare issues and has been selected by a number of provider institutions to act as outside general counsel.