GableGotwals Recognized by the Oklahoman as a 2013 Top Workplace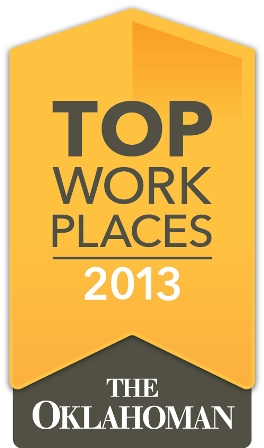 GableGotwals is pleased to recognized by The Oklahoman as a part of the Top Workplaces in Oklahoma. In addition to being among an elite group of only 50 companies selected, GableGotwals was the only law firm included as an honoree.
To find the Top Workplaces in Oklahoma, The Oklahoman partnered with Pennsylvania-based survey firm WorkplaceDynamics LLC, which has administered surveys to millions of employees since its founding in 2006.
A total of 795 companies with at least 35 employees were invited to participate in the survey of which 89 companies participated. Employees taking the survey were asked to grade their workplaces in areas such as the employer's direction, connection and execution, as well as their own feelings about their work, manager and pay and benefits. Among the questions were if the company was going in the right direction; if the employee has confidence in the leader; how confident the employee is about his or her future at the company; and whether new ideas are encouraged at the workplace. Employees were also asked about training, work-life balance and compensation.
Employers were divided into size bands and ranked within their size category to come up with the Top Workplaces in Oklahoma. The Oklahoman was not informed of the scores of each employer. WorkplaceDynamics ranked the top 10 for large, top 10 midsize and the top 30 small employers based of the 13,250 employee responses.
Large Companies
Encompass Home Health
Paycom
Whole Foods Market
Valir Health
Tinker Federal Credit Union
Oklahoma Medical Research Foundation
Chaparral Energy Inc
Access Midstream
Southwestern Medical Center
Hitachi Computer Products (America), Inc.
Medium Companies
Canadian Valley Technology Center
LINN Energy
FirstBank
GableGotwals
Noble Energy, Inc.
Ben E. Keith Foods of Oklahoma
FAA Credit Union
Top Of The World
Cobb Engineering
Metro Technology Centers
Small Companies
EOG Resources Inc
Quail Creek Bank NA
Business Imaging Systems
Oklahoma Foundation For Medical Quality Inc
JourneyChurch.tv
Cordell Memorial Hospital
PLICO
Cougar Drilling Solutions
Kirkpatrick Oil Company
Gateway Mortgage Group, LLC
Oklahoma Heritage Bank
CFS2
Riverfield Country Day School
Cardinal Engineering, Inc. d.b.a. Lemke Land Surveying, Inc.
NFP Maschino Hudelson & Associates
Multimedia Games Inc
Stan Johnson Company
Oklahoma Water Resources Board
Saxum
Oklahoma One-Call System, Inc.
Bank2
Oklahoma Arthritis Center
New York Life
Southwestern Roofing & Metal
Midlands
Citizens Bank Of Edmond
Gemini Industries, Inc
Potawatomi Family of Companies
Scott Rice
BKD CPAs & Advisors
Read the publication at http://issuu.com/opubco/docs/topplacestoworklittlepdf
Pages GableGotwals was mentioned in the Top Workplaces section:
http://secure.oklahoman.net/myaccount/tearsheet.asp?tearid=2312108&adid=&rec=1
http://secure.oklahoman.net/myaccount/tearsheet.asp?tearid=2312112&adid=&rec=1
http://secure.oklahoman.net/myaccount/tearsheet.asp?tearid=2312118&adid=&rec=1