Steven L. Barghols Recognized as AAA Neutrals Panel Member in Good Standing on the American Arbitration Association's Roster of Arbitrators and Mediators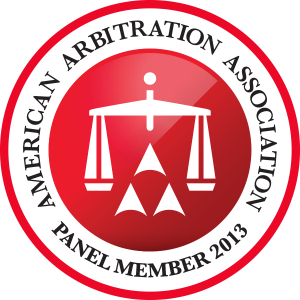 GableGotwals shareholder, Steven L. Barghols has been recognized as an AAA Neutrals panel member in good standing on the American Arbitration Association® (AAA), Roster of Arbitrators and Mediators. AAA is a not-for-profit organization with offices throughout the U.S. AAA has a long history and experience in the field of alternative dispute resolution, providing services to individuals and organizations who wish to resolve conflicts out of court.The AAA role in the dispute resolution process is to administer cases, from filing to closing. The AAA provides administrative services in the U.S., as well as abroad through its International Centre for Dispute Resolution® (ICDR). The AAA's and ICDR's administrative services include assisting in the appointment of mediators and arbitrators, setting hearings, and providing users with information on dispute resolution options, including settlement through mediation. Ultimately, the AAA aims to move cases through arbitration or mediation in a fair and impartial manner until completion.
Additional AAA services include the design and development of alternative dispute resolution (ADR) systems for corporations, unions, government agencies, law firms, and the courts. The Association also provides elections services as well as education, training, and publications for those seeking a broader or deeper understanding of alternative dispute resolution.
The AAA's National Roster of Arbitrators and Mediators consists of highly accomplished and respected experts from the legal and business communities who offer diverse experiences across a wide range of fields. Former federal and state judges, attorneys with exceptional subject-matter expertise, and business owners who understand the essence of the dispute are trained in a comprehensive program by the AAA to manage the dispute resolution process with fairness and skill, and an eye towards time- and cost-efficiency. These neutrals are bound by AAA established standards of behavior and ethics to be fair and unbiased.