Three GG Lawyers Selected for OBA Leadership Academy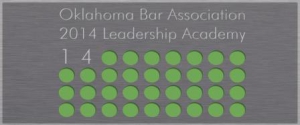 Twenty-five attorneys from across the state have been selected for the 2013-14 Oklahoma Bar Associations Leadership Academy that kicks off this fall. The new academy will include three GableGotwals lawyers including Cesar Tavares, Diana Vermeire and Lloyd Landreth. GableGotwals the only organization with more than one applicant in the academy.
The Oklahoma Bar Association's Leadership Academy is about preparing those who want to serve the profession, the state bar and Oklahoma. The academy a forum to recognizing and celebrating lawyers who volunteer, serve and give of themselves. Participants will learn core principles of effective leadership, but moreover, about the importance of servant leadership. They will learn how to communicate, motivate and succeed not only in their law career, but also in service to professional, political, judicial, civic and community organizations.