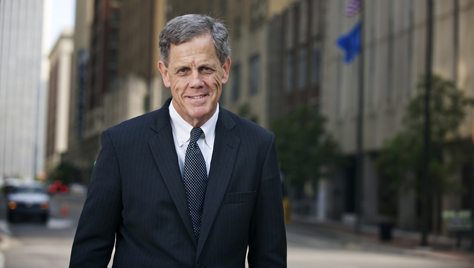 Sheppard F. "Mike" Miers, Jr.
Mike Miers, Jr. is a shareholder in the Tulsa office of GableGotwals. He has more than 50 years of legal experience. His clients include corporations, business management, and individuals.  Mike assists on tax planning and compliance, employee benefits, deferred compensation, business and financial transactions, estate planning, probate, and the administration of estates and trusts. Mike is a Certified Public Accountant in Oklahoma.
Mike is admitted to practice in the Oklahoma Supreme Court, United States Supreme Court; United States Court of Appeals for the Tenth Circuit; United States Tax Court, U.S. Claims Court; and Oklahoma Federal District Courts.
Mike served as the Chair of the Section of Taxation Law of the Oklahoma Bar Association, 1999-2000; and has since served as State Liaison and an at-large Section board member. He served as Chair of the Taxation Committee of the Oklahoma Society of CPAs, 1998-1999, and is a member of the Committee.
He has served as an adjunct professor on the subject of state and local taxation at the University of Tulsa.  Mike has regularly spoken on taxation and employee benefits for more than 25 years at seminars and continuing education programs sponsored by the Oklahoma Bar Association, Tulsa County Bar Association, Oklahoma Society of Certified Public Accountants, and Southwest Benefits Association.  He has co-authored and presented the Oklahoma tax law update at the annual Oklahoma Bar Association Legal Updates CLE seminar in December of each of the last 15 years.
Mike has written extensively and published numerous articles and notes in professional periodicals and publications. He has written a Tax Section Note that has been published in The Oklahoma Bar Journal containing an explanation of new state tax laws enacted in Oklahoma for each year from 1998 to the present.
Mike was an attorney in the legal division, and Tax Counsel, Cities Service Company, Tulsa, OK, 1970-1982. He served as an officer and trial attorney in the U. S. Army Judge Advocate General's Corps, 1966-1970.
Mike's service to civic and charitable organizations include; Stephenson Cancer Center at the University of Oklahoma, Board of Advocates, 2010-present; director, Charlene Miers Foundation for Cancer Research, 2009-present; and the South Creekside Neighborhood Association, Tulsa, Director/officer, 1996-present.
Mike's publications include:
Author, Section Note, 2019 Oklahoma Tax Legislation, 90 The Oklahoma Bar Journal No. 6, 38 (Aug. 2019)
Author, The Property Tax Deskbook, 2019, ABA Section of Taxation, Committee on State and Local Taxes, Oklahoma Chapter
Author, Section Note, New Oklahoma Taxpayer Appeal Procedure, 84 The Oklahoma Bar Journal 1772 (2013)
Co-Author, Do Intangibles Add up To Uncertainties, January/February 2010, CPA Focus
Author, Legislator and Citizen's Task Force on Tax Reform Report, 6 Oklahoma Bar Section of Taxation Journal 1, (2002)
Author, Compromise and Settlement of Oklahoma Tax Assessments, 5 Oklahoma Bar Section of Taxation Journal 1 (2001)
Author, Tax Incentives for Economic Development in Oklahoma, 65 Oklahoma Bar Journal 3537 (1994)
Author, The New Voluntary Compliance Resolution Program for Retirement Plans, 7 The Practical Tax Lawyer 31 (Summer 1993)
Co-Author, Neither a Borrower Nor Lender Be (Unless Exempted by DOL Reg. 2550.408b-1), BNA Tax Management Compensation Planning Journal (January, 1990)
Co-Author, The Division of Pension Benefits in Divorce: You Can Have the Condo and I'll Take a QDRO, 57 The Oklahoma Bar Journal 2601 (1986)
Author, The Urban Severance Tax: Some Questions as to Apportionment, The University of Tulsa Law Journal (Spring, 1983)
EDUCATION
LL.M. in Taxation, Southern Methodist University School of Law, 1979
J.D., University of Oklahoma College of Law, 1966
B.A. in History, University of Oklahoma, 1963
AWARDS & HONORS
AV PREEMINENT
Top Rated Trust & Estates Lawyer
Martindale-Hubbell Lawyer Ratings
Best Lawyers
Lawyer of the Year – Tulsa
Employee Benefits (ERISA) Law – 2014
Tax Law Tulsa – 2015 & 2017
Employee Benefits (ERISA) Law
Litigation & Controversy – Tax
Tax Law
2003-2020
Super Lawyers
Tax
Employee Benefits/ERISA
Estate Planning & Probate
2009-2013
PROFESSIONAL AFFILIATIONS
Oklahoma Bar Association
– Tax Section
Tulsa County Bar Association
American Bar Association
– Tax Section
Oklahoma Society of Certified Public Accountants
– Tax Committee
American Institute of Certified Public Accountants
Tulsa Tax Club
CONTACT MIKE
918-595-4834
E-mail Mike
Download contact information


 Connect on LinkedIn