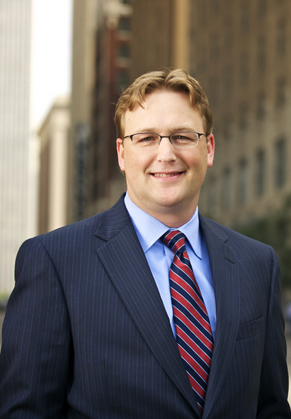 Robert J. Carlson
Rob is a shareholder in the Tulsa office. Focusing on business disputes, he represents corporations, banks, trustees and individuals with a wide variety of legal issues ranging from straightforward contract claims to complex torts like fraud and RICO claims. Rob has a depth of experience handling disputes for both plaintiffs and defendants through all forms dispute resolution including private mediation and arbitration, and litigation in both state and federal court.
As a former economist and corporate planner, Rob understands the value of identifying issues as early as possible to chart the best path forward. He is a seasoned counselor, and an aggressive, but disciplined, advocate.
Rob believes strongly in community, and community service. He is a member of St. Patrick's Episcopal Church, and volunteers for Tulsa Lawyers for Children (TLC). He also participates in the Oklahoma Bar Association (OBA), Tulsa County Bar Association (TCBA) and the National Association of Business Economics (NABE). He also periodically serves as an arbitrator in securities disputes before the Financial Industry Regulatory Authority (FINRA).
Rob is rated "AV Preeminent" by Martindale-Hubbell and has been listed as a Rising Star in Super Lawyers magazine in the areas of Business Litigation, Securities Litigation and Estate & Trust Litigation.
Robert's recent engagements have included:
Representing broker dealers, registered representatives and investment advisers in civil litigation and regulatory matters, before the SEC, FINRA and state securities agencies.
Representing community banks in civil litigation and regulatory matters.
Representing petroleum refiner in toxic tort cases alleging personal injuries were suffered as a result of exposure to petroleum products.
Representing bankruptcy trustee in action to set aside divorce settlement agreement as fraudulent transfer.
Representing client in appeal to overturn prejudgment civil forfeiture of assets.
Representing individual investors in sales practice claims of breach of fiduciary duty, fraud, and securities law violations against their securities' brokers and the brokerage firms.
Representing securities agents in investigations and disciplinary actions brought by regulatory agencies at both the state and national level.
Representing a regional banking association with claims of fraud, conspiracy and racketeering against commercial developers.
Representing a large regional construction company in a variety of construction disputes ranging from complex engineering design disputes to simple failure to pay disputes.
Representation of a health care corporation against derivative claims brought by a minority shareholder.
Representing trustees and other fiduciaries in trust litigation, and creditors in receivership and foreclosure proceedings.
EDUCATION
J.D., University of Tulsa School of Law, 2001
M.S. in Economics, Oklahoma State University, 1994
B.S. in Economics, University of Tulsa, 1992
AWARDS & HONORS
AV PREEMINENT
Martindale-Hubbell
Lawyer Ratings
Super Lawyers
Rising Stars
Business Litigation
Securities Litigation
Estate & Trust Litigation
2012
PROFESSIONAL AFFILIATIONS
Financial Industry Regulatory Authority
National Association for Business Economics
Oklahoma Bar Association
Tulsa County Bar Association
CONTACT ROBERT
918-595-4873
E-mail Robert
Download contact information


 Connect on LinkedIn