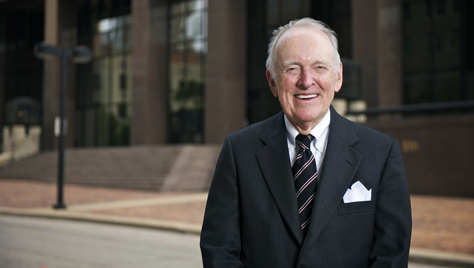 Joseph W. Morris
Joseph W. Morris has been a member of the Board and a shareholder of the law firm GableGotwals since 1984. He is a former United States District Court Chief Judge for the Eastern District of Oklahoma.
Judge Morris was formerly Vice President and General Counsel of Shell Oil Company, General Counsel of Amerada Petroleum Corporation and Dean of the College of Law at the University of Tulsa.  He has taught Oil and Gas Law for more than 20 years as an Adjunct Professor of Law and is currently an Adjunct Professor there and teaching Arbitration Law at the University of Tulsa.
He is a member of the Advisory Board of the Institute for Transnational Arbitration of The Center for American and International Law, Dallas; is an emeritus member of The Rand Corporation's Board of Overseers of the Institute for Civil Justice, Santa Monica, California; is a Life Member of the American Law Institute, Philadelphia; is a member of the American Bar Association and an Oklahoma Fellow of the American Bar Foundation.
He is a former Chairman of the Natural Resources Law Section of the American Bar Association; is a former State Regent of Higher Education for the State of Oklahoma; and is a former President of the Tulsa County Bar Association. He is listed in the publication The Best Lawyers in America in Alternative Dispute Resolution and in Natural Resources Law. He is admitted to practice law in Kansas, Oklahoma, and Texas.
During the last 20 years, he has spent approximately 90% of his time on ADR matters and has chaired or served as an arbitrator under the AAA rules, the ICC rules, the UNCITRAL rules, the London Court of International Arbitration rules, and the CPR rules in a substantial number of significant commercial arbitrations, both domestic and international, including arbitrations held throughout the United States, and also in Melbourne, Australia, London, England, Singapore and the United Arab Emirates. In approximately 2/3 of those cases, he was Chairman of the Panel or the sole arbitrator. He also has substantial experience as a mediator, and in 1991, taught ADR for a week at the International Development Law Institute, Rome, Italy.
He served as Special Master, concluding in April 2001, in In re: Copley Pharmaceuticals, Inc., "Albuterol" Products Liability Litigation, a mass tort class action case, having been appointed by the United States District Court for the District of Wyoming.
EDUCATION
S.J.D., University of Michigan, 1955
LL.M., University of Michigan, 1948
LL.B., Washburn University, 1947
A.B., Washburn University, 1943
PROFESSIONAL AFFILIATIONS
American Arbitration Association
American Bar Association
American Law Institute
Institute for Transnational Arbitration of The Center for American and International Law
Oklahoma Bar Association
Oklahoma Bar Foundation
National Panel of Distinguished Neutrals of CPR International Institute for Conflict Prevention & Resolution
Tulsa County Bar Association