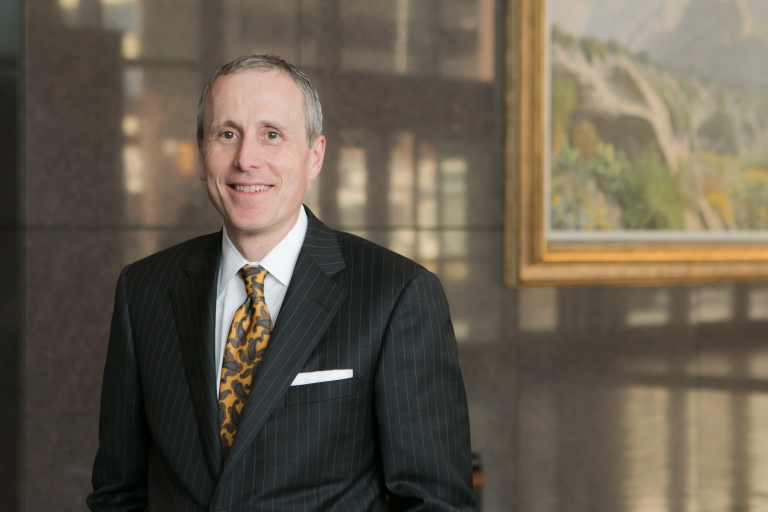 John D. Russell
John D. Russell is an experienced commercial litigator who has handled cases across a variety of business industries. John has represented clients before trial and appellate courts as well as federal and state regulatory agencies. He has tried cases to a decision on behalf of plaintiffs and defendants before juries, arbitrators, and judges in state administrative agencies, state courts, three-judge arbitrations, and federal courts. He has substantial experience in commercial litigation, including securities, fraud, class action, insurance, and antitrust matters, and has particular experience in representing companies in civil litigation arising out of government investigations. John also represents companies and individuals under investigation by state and federal grand juries and governmental entities and works for boards of directors conducting internal corporate investigations.
John is a former federal prosecutor for the U.S. Attorney's Office for the Northern District of Oklahoma where he investigated, charged, and tried to decision a wide range of white-collar criminal cases. He was the Appellate Coordinator for the Criminal Division from 1998 through 2000. He is also a former trial attorney with the U.S. Department of Justice, Tax Division, and was honored with an Outstanding Attorney award in 1992.
He frequently represents clients before federal grand juries, the United States Department of Justice, the Oklahoma Attorney General's Office, the Oklahoma Securities Department, and other federal and state agencies. In addition, he has conducted internal investigations for a variety of private and public companies on matters including, corporate and accounting fraud, securities fraud, health care fraud, tax fraud, lending practice violations, environmental violations, and public corruption.
John was a term master with the American Inns of Court, Council Oak Chapter. He is a member of the Northern District of Oklahoma's Criminal Justice Act Panel where he represents indigent defendants in federal criminal cases.
Recent Experience:
Defended former bank president and stockholder on federal criminal charges that caused the bank to fail. Obtained an eight-year reduction from the sentencing guideline range.
Obtained a voluntary dismissal with prejudice of an insurance bad faith claim brought by a doctor seeking disability benefits.
Represented majority shareholder of a publicly-traded oil and gas company in securities class action lawsuits. We obtained complete dismissals of two of the lawsuits.
Represented an international oil field services and supply company and obtained dismissal of an antitrust case in the Northern District of Oklahoma, which was affirmed after appeal to the 10th Circuit.
Represent business interests in negotiation and litigation with treasury and tax authorities regarding unclaimed property, severance, and property taxes.
Represented a health insurer in a class-action lawsuit and related litigation over alleged misrepresentations by the insurer's agents.
Represented a senior bank executive in civil conspiracy, fraud, and aiding and abetting securities fraud lawsuit.
Represented a property and casualty insurer in a number of breach of contract and bad faith lawsuits, two of which were decided favorably by juries.
Represented a publicly-traded telecommunications provider in a public corruption criminal case charged by the Oklahoma Multi-County Grand Jury.
Obtained dismissal of breach of contract and fraud claims against a foreign airline for alleged failure to pay a 35% commission on warranty claims (totaling $278 million) to aircraft manufacturers.
Obtained dismissal of criminal charges against a publicly-traded oil and gas company, which was charged with a violation of the Migratory Bird Treaty Act in federal court in North Dakota. The district court's opinion has been relied upon by many previously-convicted companies to obtain post-conviction relief from sentences for similar violations.
Obtained a directed verdict in an action brought against an oil and gas company after two-weeks of trial.
Obtained an acquittal for a client in the Eastern District of Virginia in a fraud-against-the-government case.
Obtained dismissal of federal health-care fraud, wire fraud, and money laundering charges against the former chairman of an insurance company and third-party administrator.
Defended a retired bank president on charges of conspiracy and misapplication of bank funds. The jury acquitted our client on two of the three conspiracy charges and the only count of misapplication of bank funds.
Led the defense of ten cases in which the government declined to initiate criminal proceedings, many involving potential violations of federal criminal tax laws, potential federal False Claims Act, wire fraud, potential drug distribution charges and money laundering violations.
Represented a major wholesale fiber optics communications provider in a breach of contract lawsuit seeking repayment of $8.3 million in overcharges.
EDUCATION
J.D., University of Oklahoma College of Law, 1988
B.S., Oklahoma State University, 1985
AWARDS & HONORS
AV PREEMINENT
Martindale-Hubbell Lawyer Ratings
Best Lawyers
Bet-the-Company Litigation
Commercial Litigation
2010-2020
Super Lawyers
Commercial Litigation
Criminal Defense: White Collar
2006-2019
Oklahoma Top 50
2013, 2015
U.S. Department of Justice
Tax Division
Outstanding Attorney
PROFESSIONAL AFFILIATIONS
Oklahoma Bar Association
United States Tax Court
Petroleum Alliance of Oklahoma
Litigation Counsel of America