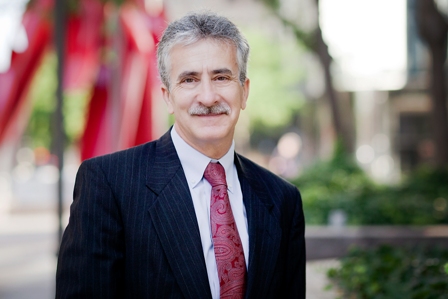 Dean A. Couch
Dean Couch is of counsel in the Oklahoma City office of GableGotwals. After more than three decades on the front lines of state and national water law issues, Dean brings his expertise and experience to the Firm. From complex litigation involving states, municipalities, tribes, federal agencies, companies, and individuals to state/tribal compacts and property rights, Dean has played a role in some of this country's most important water-related litigation.
A respected expert on water law, Dean served for nearly 30 years as the general counsel for the Oklahoma Water Resources Board, the state's primary governing authority for most water matters. He helped guide the state through the legalities of issues such as riparian and appropriation doctrines, private property rights, state water quality standards, floodplain management, and use of groundwater for oil/gas drilling and animal feeding operations. Dean has advised state leaders during negotiations of water compacts with state, tribal, and federal governments.
He has drafted legislation relating to water quality and water quantity matters for state and federal approval, and reviewed and opined on the compliance of more than $2 billion in municipal and rural water district bond issues for the state's water and wastewater financial assistance program.
Dean has served as chairperson and member of the legal advisory committees of the four Interstate Stream Compacts to which Oklahoma is a party: the Red River Compact Commission, Canadian River Commission, Kansas-Oklahoma Arkansas River Compact Commission and Arkansas-Oklahoma Arkansas River Compact Commission. He has also been actively involved with the Western States Water Council.
Dean served one year as a judicial intern with the Oklahoma Supreme Court. Upon his graduation from law school, he served three years as a staff attorney with the Oklahoma Water Resources Board before being named as the agency's general counsel. Dean's work has been published in the American Bar Association's Natural Resources, Energy and Environment Year-In-Review, Oklahoma Law Review, Oklahoma Environmental Law Handbook, and the Rocky Mountain Mineral Law Foundation Water Law Newsletter. He has presented papers on various water-related legal issues at conferences across the region. Dean also teaches water law at the University of Oklahoma College of Law and previously taught water law at The University of Tulsa College of Law. In addition, Dean is teaching an online water law course for non-lawyers in the Masters of Legal Studies (MLS) program through the University of Oklahoma College of Law and another online course for OU's School of Civil Engineering and Environmental Science in the hydrology and water Security (HWS) program. He has been featured as a guest lecturer on water issues at the Oklahoma City University School of Law.
In addition to being a member of the bar, Dean is admitted to practice in the Western District of Oklahoma as well as the U.S. Supreme Court. He is also a member of the Oklahoma Bar Association's Environmental Law Section and Government and Administrative Law Section.
Examples of Dean's practice experience include:
Coordinating with local communities on floodplain management issues and FEMA requirements.
Overseeing compliance with legal requirements for state agency operations, administrative procedures requirements for agency rules, hearings, and orders.
Open Records Act compliance.
Open Meeting Law compliance.
State agency acquisitions and contracts.
Representation of state agency in court proceedings.
Coordinating outside counsel and Oklahoma Attorney General representation in state agency litigation matters.
Review and oversight of legal requirements for state agency bond issues, water, and wastewater financial assistance programs.
Legal advisor to Oklahoma on four interstate stream compacts, reservoir storage rights with federal Corps of Engineers and Bureau of Reclamation.
Oklahoma Department of Mines Informal Conference Officer.
PRACTICE AREAS
EDUCATION
J.D. University of Oklahoma, 1982
B.S. University of Central Oklahoma, 1976
AWARDS & HONORS
Best Lawyers
Oil and Gas Law
Water Law
2016-2020
PROFESSIONAL AFFILIATIONS
Oklahoma County Bar Association
Oklahoma Bar Association Environmental Law Section
Oklahoma Bar Association Government and Administrative Law Section
Western States Water Council Endangered Species Act Subcommittee
Governor's Solid Waste Task Force (past member)