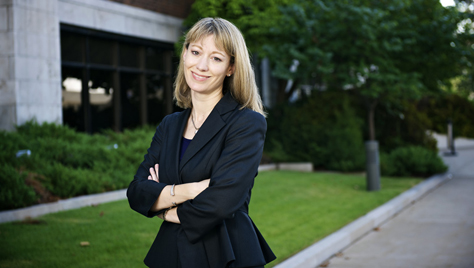 Amelia A. Fogleman
Amelia Ann Fogleman's practice includes litigation work in the areas of Appellate Law, complex Commercial Litigation, Antitrust Law, and Oil & Gas.  She has represented a number of large publicly traded companies as well as privately held businesses. Amy has successfully represented clients in state and federal courts, including the Ninth and Tenth Circuit Courts of Appeals and the United States Supreme Court. She currently serves as an Adjunct Settlement Judge for the court-ordered dispute resolution program in the U.S. District Court for the Northern District of Oklahoma.
Amy has been recognized by Best Lawyers in America for her outstanding legal work in Commercial Litigation, Antitrust Law and Appellate Law.  She has also been named an Oklahoma Super Lawyer.
Amy's recent experience includes:
Representing Fortune 500 oil & gas company in defending environmental claims brought by the State of New Jersey.  Obtained partial summary judgment requiring a co-defendant to fully indemnify our client for any damages assessed against it in the case.
Representing Fortune 500 oil & gas company in a multidistrict antitrust proceeding brought against the client and a number of other gas trading companies relating to alleged misreporting of natural gas prices.  Obtained summary judgment in favor of all defendants based on federal preemption.  The issue is currently on appeal in the Ninth Circuit.
Representing litigation trust in auditor malpractice case against major accounting firm in connection with the collapse of a large, privately-held company.
Representing shareholder in closely-held private corporation who has brought direct and derivative actions against his equal shareholder and board of directors for breach of contract and breach of fiduciary duties.  The complaints seek damages in excess of $140 million.
Represented Fortune 100 company in a qui tam action brought pursuant to the False Claims Act. Successfully argued in summary judgment briefing that the allegations brought by the plaintiff had been the subject of a prior "public disclosure," causing the court to enter summary judgment in favor of our client.
Represented privately held oil & gas partnership in asserting claims for fraud, breach of contract, and breach of fiduciary duty against its investment advisor.  Obtained a mandatory preliminary injunction ordering the defendant to transfer to our client the title to oil & gas properties worth approximately $1 billion, which was affirmed by the Tenth Circuit.  Also obtained partial summary judgment in favor of our client on its breach of fiduciary duty claim, which it valued in the range of hundreds of millions of dollars.  The case soon settled on terms very favorable to our client.
Represented Fortune 100 oil & gas company in defending contribution claim in complex environmental litigation involving hundreds of parties.  Obtained very favorable in limine rulings that helped to facilitate a pre-trial settlement advantageous to our client.
Represented Fortune 500 oil & gas company in action against the Mineral Management Services.  Became involved in the case after a panel of the Tenth Circuit had ruled against our client and was successful in obtaining a rehearing en banc.  The en banc court affirmed the district court's judgment in favor of our client.
Represented Fortune 500 oil & gas company in defending against claim that it had breached a preferential right to purchase property valued in excess of $100 million.  Obtained summary judgment in favor of our client and successfully defended judgment in the Tenth Circuit Court of Appeals.
Represented foreign manufacturing company in defending federal antitrust action.  Obtained dismissal of our client based on the plaintiff's failure to state a claim for relief against it.
Represented radio station in claim for trademark infringement brought against it by competitor.  Defeated competitor's request for a temporary restraining order against our client, resulting in favorable settlement for our client.
EDUCATION
J.D., University of Virginia School of Law, 1994
B.A. with honors, Oklahoma State University, 1991
PROFESSIONAL AFFILIATIONS
American Bar Association
Oklahoma Bar Association
Tulsa County Bar Association
Litigation Counsel of America, Trial Lawyer Honorary Society, Fellow